Peak BioBoost is a unique blend of prebiotic dietary fiber which helps your healthy gut bacteria flourish. It also helps maintain a healthy microbiome so you can enjoy regular bowel movements and less gas.
$49.95
Regular price
Sale price
Unit price
per
Sale
Sold out
Helps you poop daily

 

so you feel lighter and less bloated...

Boosts energy

 

so you feel younger and more vibrant...

Flavorless and easily mixable in coffee, tea, oatmeal, yogurt or many others...

Nutritionist-approved

 

with natural ingredients...
6-month, 100% money-back guarantee...
View full details
100% No-Risk Money Back Guarantee
Dairy Free
Gluten free
Keto friendly
Soy Free
Vegan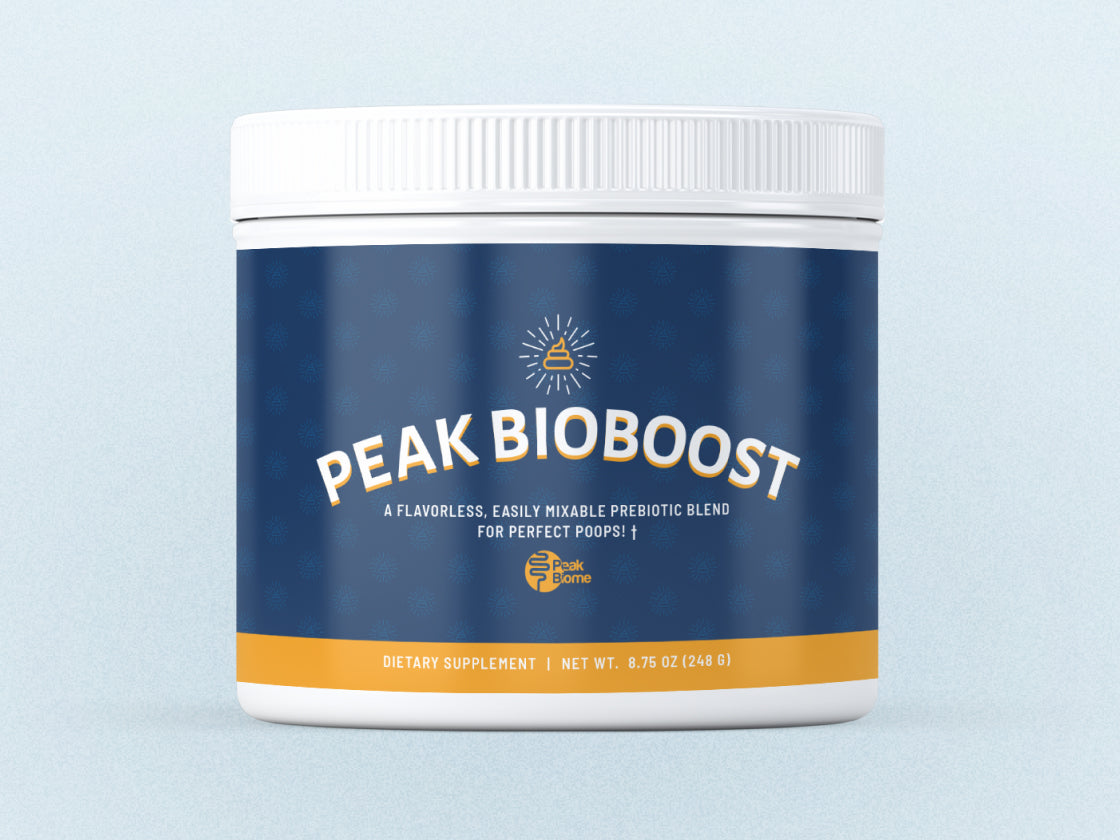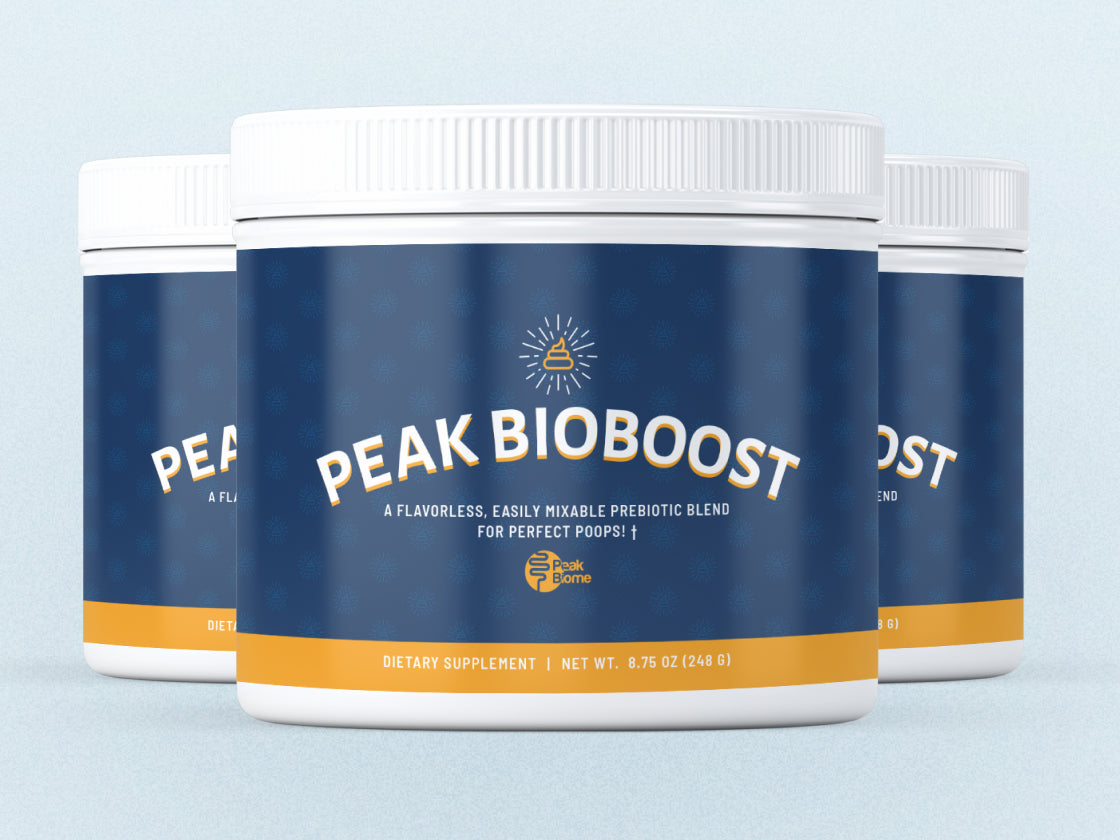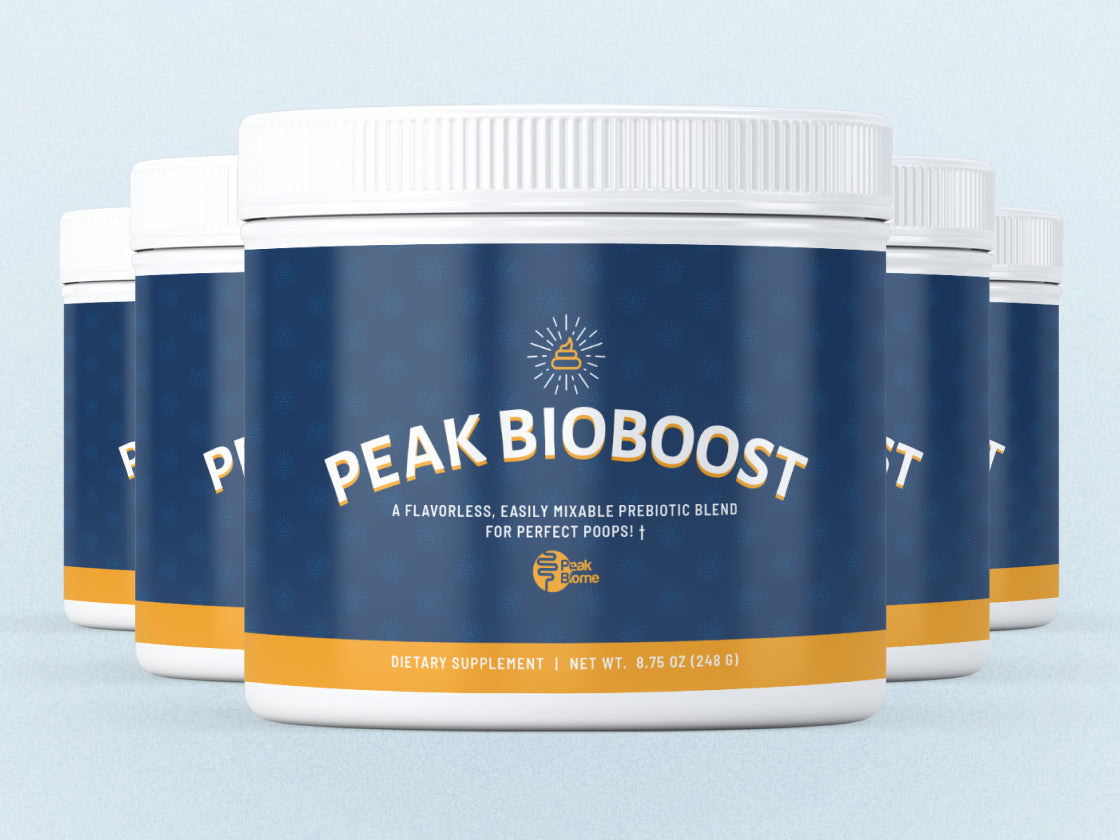 Helps accelerate stool speed so you can enjoy frequent, predictable, gentle bowel movements...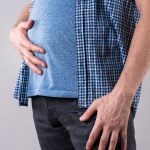 Helps control belly bloat as you remove several pounds of poop stuck inside your bowels...
Supercharges friendly gut bacteria which can help control food sensitivities like gluten and lactose...
Bulks and softens your poop so you can fully empty your bowels quickly without straining, pushing, or grunting...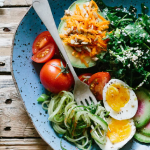 Works for people on all sorts of diets including Keto, Paleo, Vegan and even better for those on high fat, low carb diets..
No additives. No fillers. No artificial anything. Just science-backed, natural ingredients proven to give you results…
Makes wiping faster with less chafing because your poop isn't sticking anymore...
Helps fully empty your bowels so your stomach feels lighter and more empty...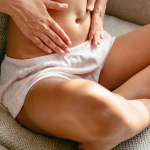 Helps reduce stomach pain, nausea and discomfort from constipation because you're pooping more frequently...
other solutions for constipation are outdated and inconvenient
There are many reasons people suffer from constipation...
Maybe you're taking a medication that's blocking intestinal muscle contractions.
Maybe you're stressed from finances, your job, kids, or any of the other dozens of things to be stressed about.
Maybe you're aging and your intestinal muscles are weakening.
The fact is, there are dozens of possible reasons you could struggle with daily bowel movements. Unfortunately, solutions for constipation are outdated.
Psyllium fiber creates a thick "sludge" that's nearly impossible to drink and doesn't work for many people.
Colon cleanses create short-term "explosive" results but don't actually fix the problem.
Probiotics are great for overall gut health but don't relieve constipation for most people.
And things like eating prunes or extra fiber generally don't work for most people because a lack of fiber isn't the problem for most people!
That's why we created Peak BioBoost.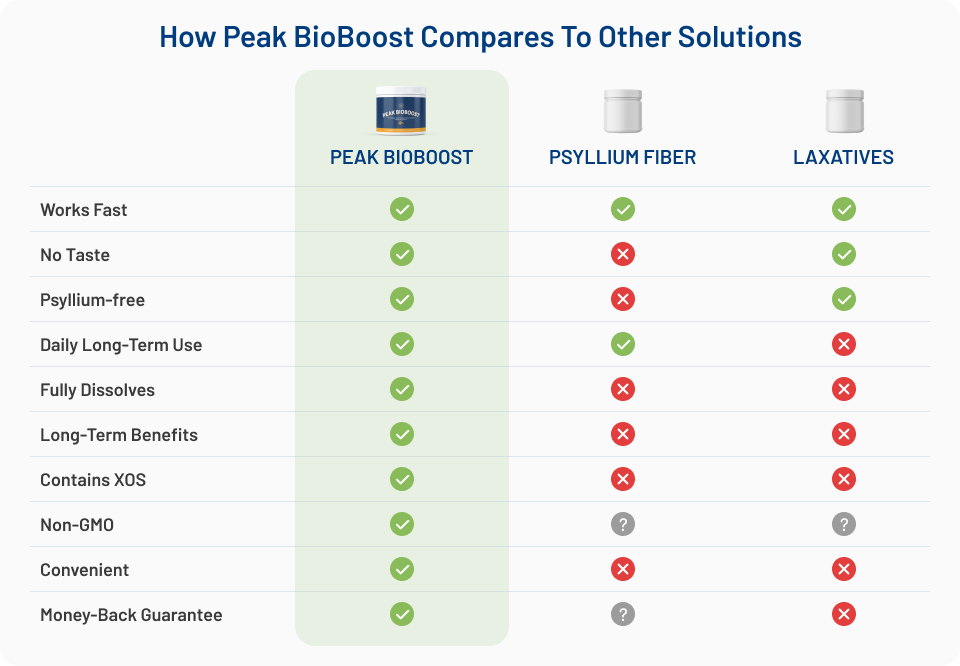 Peak BioBoost Is Unique And
Innovative In 4 Different Ways…
It's flavorless and dissolves easily into your morning meal or drink such as your coffee, tea, oatmeal, smoothie, yogurt, and many other foods. This makes it easy and convenient to take.
It's made with science-backed, plant-based, natural ingredients. That way you can take it daily without worrying if it will interact with any other medications you're currently taking.
Works both fast AND long-term. You can take 2 scoops per day in the beginning for fast relief, just like you would with a colon cleanse. And then reduce your dosage and take 1 scoop per day for long-term relief.
It works in FOUR different ways to eliminate constipation so it can work regardless of why you're suffering in the first place.
It relaxes the nerves gripping your intestines so everything can glide from your stomach to the toilet effortlessly.
It accelerates how quickly stool moves through your intestines so bowel movements become frequent and predictable.
It bulks and softens your poop so you can fully empty your bowels without straining, pushing, or grunting.
It supercharges your gut-friendly bacteria so you feel lighter, more energetic and almost never get embarrassing stinky gas.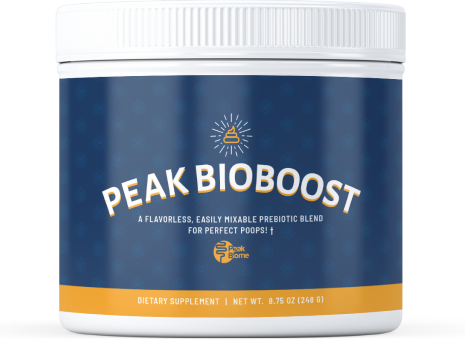 This is why Peak BioBoost has already changed the lives of well over 100,000 people all over the world. And on top of that…
It works for all age groups…
It works for both men and women…
It works for people on all sorts of diets including Keto, Paleo, Vegan and even better for those on high fat, low carb diets…
And it works for people who've been dealing with constipation for just the past few weeks all the way up to decades…
5 science-backed ingredients
Xylooligosaccharides (XOS)
The great thing about XOS is that it helps strengthen your intestines so they move faster naturally.
So it won't create a dependency like dangerous laxatives do. XOS multiplies gut-friendly bacteria called bifidobacteria AND bulks up your stool which:
Helps you poop more regularly by speeding up your intestines.2
Softens your stool so your poops come out quickly and easily with no straining.3
Helps fully empty your bowels so your stomach feels lighter and more empty.4
Makes wiping faster with less chafing because your poop isn't sticking anymore.
Reduces stomach pain, nausea and discomfort from constipation because you're pooping more frequently.
On top of that...
It works if you're over 60. Studies with elderly folks revealed that XOS can significantly increase good gut bacteria, soften hard stool, and help you enjoy soft, smooth pleasurable poops, at any age.5
It even works on diarrhea. XOS was even shown to be 90% effective at stopping moderate diarrhea.6
That's exciting for the unlucky folks suffering from both constipation AND diarrhea. With XOS you can feel in control of your bowels and stop worrying about what might happen, especially when you're in public.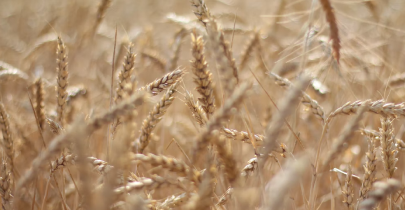 Fructooligo-saccharides (FOS)
It has been shown to help speed your intestines, fully empty your bowels, protect your gut from "bad" bacteria, and even promote healthy cholesterol levels.7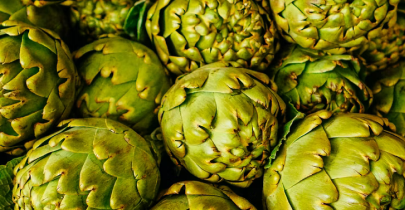 inulin
Inulin helps bulk up your stool and lubricate your digestive system so poop glides through your intestines like water in a clean pipe.8
acacia gum
Which contains high amounts of resistant starch to feed beneficial bacteria in your gut, and help manage inflammation and blood sugar. 9 10 11

magnesium citrate
Magnesium is a nutrient that the body needs to stay healthy. Magnesium is important for many processes in the body, including regulating muscle and nerve function, blood sugar levels, and blood pressure.
The problem is that if your body doesn't have enough magnesium, your intestinal nerves tighten up, narrowing your intestines. This makes it harder for poop to move through them, causing constipation.
That's why we've added magnesium to Peak BioBoost. By helping your intestinal nerves function properly, they relax and allow poop to move freely through your intestines.
People Across The Globe Are
RAVING About Peak bioboost
First, it accelerates your stool speed
This is my second time ordering. I have dealt with digestive issues for almost all of my life and have tried every kind of supplement, fiber, diet, etc you can imagine. Peak BioBoost has truly been life changing! For the first time I'm actually regular on a daily basis and my bloating is going down! I'm very hopeful that I will continue to see these results!
It bulks and softens your poop
OMG, I've never been moved (pun intended) to write a testimonial before, but Peak BioBoost has literally changed my life. No more straining, no more sitting for ages only to see tiny rabbit pellets. Now I'm in and out in a few minutes with total success... everyday! You don't know what this has meant to my everyday life. Amazing! And I know everybody is different, but it worked for me with the very first dose. I simply add it to my morning cup of tea and enjoy a normal life again. Thank you, thank you, thank you!
It also reduces bloating
Good morning I've been taking your Peak Bioboost for about a month. I didn't have any results the first five days. So I increased to two times a day for two weeks. After three or four days I noticed a change... Less gas, bloating, and more regularity. I have since decreased down to one dose a day. I have also been taking a probiotic. It's nice to see a product that actually does what it promised. Thanks for a great product! I will be ordering more soon.
Finally, it helps reduce food sensitivities like gluten and lactose
Yes Good Morning! I am very satisfied with Peak BioBoost. I have suffered for years with gluten and other food allergies and of course extreme bloating! Since I have been drinking Peak BioBoost in the morning. Huge difference in my bloating and digestive track! Thank you so much!
peak bioboost is the perfect addition to your morning routine
Most of our customers simply add a scoop of Peak BioBoost to their morning coffee or tea. But you can also add it to a smoothie, yogurt, oatmeal, or anything else it can easily mix into.
Since it's flavorless and dissolves in seconds, you won't even realize it's in there so you'll no longer have to gag down the gel-like sludge that forms from psyllium-based products. Now you won't even realize you're drinking it, yet get the best results possible.
Hello perfect poops!
Peak BioBoost contains...
The Right ingredients
Which are shown to bulk up your stool, increase how quickly poop moves through your intestines, and help you fully empty your bowels.
In the RIGHT amount
So you're getting enough of each ingredient to dramatically impact your digestive system without causing bloating, gas or discomfort.
A FLAVORLESS and instantly mixable powder
So it's effortless to take every day without having to force it down like with most other fiber-based products.
You Can Try Peak BioBoost For 6 Months!
I want to make sure you're happy and confident with your order today, which is why every order of Peak BioBoost comes with a 6-month, 100% money-back guarantee.
You're either thrilled with your results or you don't pay a single cent. We stand behind our products because we know you'll love the results!
This product is amazing and I am seeing the results that I was looking for. It took a little over two weeks before the results started showing up and now I am having perfect poops. I have called your office to request a refund but I decided to give it a little longer before giving up on your product and I am glad that it is worth every penny that I spend to get these results.
click here to choose your package