Enjoy Strong, Healthy Bones With OstiStrong!
OstiStrong
OstiStrong is a doctor-formulated blend of ingredients to support bone health. It uses a unique form of calcium shown to provide 600% better results than traditional solutions - using natural ingredients.
$49.95
Regular price
Sale price
Unit price
per
Sale
Sold out
Doctor-formulated

using science-backed ingredients... 

Contains 11 ingredients supporting a full calcium cycle for best results...
Formulated to promote max absorption rates...
6-month 100% money-back guarantee...

View full details
100% No-Risk Money Back Guarantee
Dairy Free
Gluten free
Keto friendly
Soy Free
Vegan
Give Your Bones Everything They Need
To Stay Strong And Healthy
With Natural Ingredients
11 crucial ingredients for strong, healthy bones
Formulated to use daily for safe, ongoing support
Doctor-formulated and backed by science
100% money-back guarantee
The Dangers Of Brittle Bones
Most people don't think about their bone health because it's not an obvious, day-to-day concern.
It only becomes a concern once a slight stumble turns into a terrifying, often life-ending fracture…
But they don't realize that up to 30% of people die within a YEAR of events like falling and fracturing your hip.1, 2
Surgery complications… circulation issues due to immobility… too much stress on internal organs to heal…
These are just SOME of the dangers of what weak bones can lead to.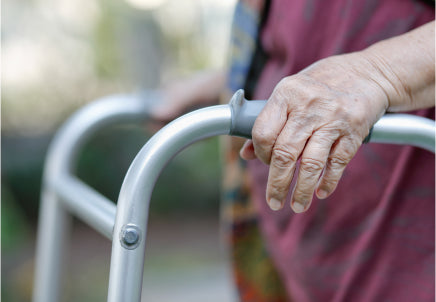 And even if you survive, your lifestyle doesn't.
Because you could then spend the rest of your life with a walker or cane, if you're able to walk at all.
Your favorite hobbies and activities stolen from you forever.
That's why bone health is so important to think about TODAY.
Unfortunately…
Today's Bone Health Solutions Are Ineffective… Dangerous… Or Both
Here at Peak Biome, we believe it's important to understand the risks involved when starting any new solution for a problem you're trying to solve… such as maintaining strong bones.
That's why we were horrified to discover the risks with many popular bone health solutions today.
Some of them increase your risk of an irregular heartbeat as much as 86%...3
Others have actually been shown to INCREASE your risk of fractures by between 790% - 4,400% depending how long you take them…4, 5
And they can also lead to many other issues such as…
Gastrointestinal issues: From stomach pain and acid reflux to nausea and irritation of the esophagus…6
Flu-Like Symptoms: Including fever, chills, and muscle aches…7
Skin Reactions: Some can cause skin reactions such as rashes, eczema, and, in rare cases, blisters...8
Increased risk of infection or death: One solution in particular increased risk of UTIs by 36%, fungal infections by 67% and death by 26%...9
Eye Inflammation: Along with brain-splitting pain and changes in vision...10
And that's if they even work. Because when a group of researchers studied people using them for two full years…
Most people only saw a 1.4% - 2% improvement in their bone mineral density and up to 25% of patients saw ZERO improvement in their bone density!11, 12
In other words, you could be raising your risk of bone complications while adding many scary side effects, 
just for a TINY chance of getting a TINY improvement in your bone health.
That's why we created OstiStrong.
OstiStrong Uses Science-Backed,
Natural Ingredients To Support Strong
Bones Without Side Effects… Guaranteed!
OstiStrong includes the fullest, most comprehensive array of protective and supportive bone-density minerals to support your bones using natural ingredients.
Here's what's inside…

Microcrystalline Hydroxyapatite
It's backed by nearly 50 years of research…
And molecule for molecule, it's as similar to whole human bones as you can get.
MCHC contains the form of calcium your bones are actually made of (unlike calcium supplements and most calcium-heavy foods).
Plus, it contains phosphorus, trace minerals, collagen, bone-growth peptides and more. In short, it contains all the "raw materials" your bones need to stay strong and dense.
According to renowned pharmacist, Dr. Neal Smoller…
MCHC is how our body stores bone. This is the form we recommend the most.
In fact, studies show that MCHC can increase bone volume by nearly 10%... up to 614% more than many of today's popular solutions!13
And when you have strong bones, your skeletal system is able to align properly, which may reduce or even eliminate other nagging aches and pains you might deal with.
One study found that after taking MCHC for a year, the number of patients with back discomfort dropped by nearly 85%! Meanwhile, the people who didn't get the treatment either had more back pain or no change.14
Menaquinone-7
Menaquinone-7 (MK-7) is a unique form of vitamin K2 which helps support the process of shuttling calcium into your bones and teeth while preventing it from getting stuck in your blood. 15
This is CRUCIAL because taking calcium without MK-7 can lead to calcium sticking to the walls of your blood vessels, making them hard and inflexible (called calcification). This is similar to how cholesterol clogs up your circulation and destroys your cardiovascular system.
And researchers are astounded by how well it works…
In one recent study, Japanese researchers showed that MK-7 not only helped maintain bone strength in postmenopausal women…16
Another study showed it supported healthy collagen production which is great for your hair, skin and nails…17
And other studies have shown it to improve bone density results by nearly 40%!18

Vitamin D3
Vitamin D3 is something most people are familiar with, yet it's extremely hard to get in the right amounts.
It's often called the "sunshine vitamin" because your body uses the sun's UV rays to convert cholesterol into vitamin D3. And it's absolutely essential because it helps absorb calcium properly so MK-7 can then pick it up and transport it into your bones.
These three ingredients form the perfect bone health trifecta which is why we've added the right forms of them, in the right amounts, to make OstiStrong the most effective bone health supplement on the market today.
Plus we've also added several other supporting ingredients to complete the full bone cycle process (something most other supplements don't do)...
Including:
Magnesium
Strontium Citrate
These are all in very specific amounts with the sole purpose of helping to support bone strength now and as you age.
OstiStrong Is The Perfect Addition
To Your Daily Routine
As you may know, maintaining strong bones is a long-term commitment to yourself.
If you're like most of our customers you're probably terrified of falling and fracturing a hip, arm, or anything else. And we get it! You want to stay strong and balanced on your feet. You want to keep your freedom so you can support yourself without your family's help.
That's why we recommend making sure you stock up on our 3 or 6 bottle option.
That way you'll protect yourself now and well into the future so you can get on with living your life how you want it. And you'll enjoy better results by allowing the ingredients more time to work with your body. 
Plus you'll enjoy a substantial discount if you choose a 3 or 6 bottle option, so it makes perfect sense to stock up now while you can.
And of course…
You Risk NOTHING Due To Our 6-Month, 100% Money-Back Guarantee!
I want to make sure there's NOTHING stopping you from giving OstiStrong a try today.
OstiStrong is a doctor-formulated product designed to help you maintain strong, healthy bones. It includes all the right ingredients, in the right amounts. It's made in an FDA-approved manufacturing facility and goes through rigorous testing to ensure you're getting exactly what you pay for.
That's why I'm confident enough to offer you a 6-month, 100% money-back guarantee.
You either get the results you're looking for, or you don't pay.
If for some reason it doesn't work for you after giving it a fair try, simply email or call our customer support team. Our contact information is on the bottle, all over our website, in a package insert shipped with your order, and on this page. Our ONLY goal is to hear that OstiStrong has changed your life, and if for some reason it hasn't, just get in touch and we'll take care of you.
It's really as simple as that!
click here to choose your package