A powerful, natural way to halt sniffling, sneezing, throbbing seasonal symptoms quickly!
$49.95
Regular price
Sale price
Unit price
per
Sale
Sold out
Breathe easy with clear, comfortable sinuses…

Sleep through the night without hacking, coughing or sneezing…

Relieve head and sinus congestion…

Enjoy your day without tissues, eye drops or antihistamines…
View full details
100% No-Risk Money Back Guarantee
Dairy Free
Gluten free
Keto friendly
Soy Free
Vegan
Finally: Breathe Easy, With Clear Sinuses During Pollen Season… Without Feeling Dried Out, Drowsy or Foggy-Headed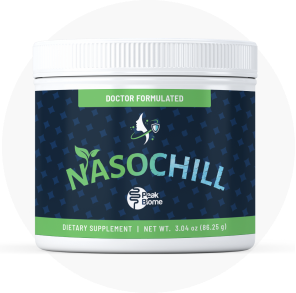 Help support a healthy
allergy response long before histamine gets involved…
Help support a healthy inflammatory response to allergens naturally…
Help support several allergic response pathways that are usually ignored…
Help maintain healthy immune response naturally…
Introducing A First-Of-Its-Kind Solution That Addresses Your Seasonal Reactions… BEFORE Your Body Senses A Single Grain Of Pollen
Like so many seasonal pollen sufferers, I'm sure you've tried it all…
From those mainstream "12-hour solutions" to herbs, inhalers, neti pots and expensive air purifiers…
Feeling nothing but frustration and defeat the moment spring rolls around and it feels like someone's blowing up a balloon inside your head.
But there is now ironclad scientific proof from today's most qualified doctors and research scientists that's going to blow your mind (and clear your sinuses).
In fact, as you're about to see - you may never have to worry about "pollen season" again!
You'll finally be able to enjoy the transition from brown to green as spring plant life blooms…
You'll be able to pet every dog or cuddle every cat… 
You'll be able to sleep through the night without coughing or congestion… travel… socialize… enjoy everything you've had to give up or avoid… 
Without worrying about the consequences.
Unfortunately Today's Popular Seasonal Immune Solutions Expect You to Trade One Problem for Another
Isn't it terrifying watching a 1-minute drug commercial where 3/4 of the time is talking about the horrible side effects?
It's Hard Not To Roll Your Eyes As The Voice-Over Tells You About… 
Drowsiness
Fatigue
Falling asleep
Dry mouth
Dry skin
Constipation
Agitation
Confusion
Difficulty peeing
Headache
Restlessness
Drowsiness
Blurred vision
Tremors
Increased heart rate
Delirium
That's because, until recently, our only solution for addressing nasal and respiratory symptoms was to block histamines.
And as I'm sure you know, blocking histamines usually makes your nose, throat, brain and overall energy levels feel worse than having seasonal symptoms in the first place.
But it gets worse…
Because shocking new research from Yale, Harvard and Georgetown University shows that blocking histamines can have dire health consequences…
From an increased risk of falls and accidents, which can ruin your entire life, and even shorten your life substantially through complications…
To obesity and even a 54% increased risk of dementia! 1, 2, 3
That's why I'm excited to introduce you to a brand new way to avoid all of the uncomfortable reactions that happen in your body the moment that first grain of pollen, dust or dander lands in your eyes, your nose or your throat…
And it works in a matter of MINUTES…
BEFORE your head turns into a throbbing snot factory.
NasoChill is a Natural Way To Support Seasonal Symptoms… So You Can Breathe Easy, Feeling Comfortable and Sneeze-Free Without Side Effects… Guaranteed!
You're moments away from declaring your independence from your tissue box.
And you'll never have to worry about a single negative side effect again.
Not one!
Because NasoChill works WITH your body's natural immune response (instead of fighting against it) for easy breathing, clear eyes, and a sharp mind starting with…
Quail egg
In double-blind, placebo-controlled studies, the absolute gold standard of scientific research…
The people who took the quail egg extract were breathing easy, with clear sinuses, comfortable eyes and barely a sniffle starting in just 15 minutes!4
The good news is you don't have to scramble up dozens of little quail eggs to banish your own seasonal symptoms because there's a far easier way to get these important benefits.
Quercetin
Quercetin has been shown by many studies to maintain a normal seasonal response to respiratory irritants such as pollen, but NOT by blocking histamines. Instead it fights the inflammatory chemicals that stir up your histamine response. 5, 6, 7
In other words, you can stop worrying about the histamines that cause your misery…
And look forward to peaceful, relaxing days without drowsiness for you!
Stinging Nettle
Used in traditional medicine for hundreds of years, Stinging Nettle delivers strong support for a healthy inflammatory response to your seasonal and environmental triggers.
Just imagine cutting the sniffling, sneezing in HALF by keeping histamine and other immune responders in balance.8, 9, 10, 11 
So you can enjoy the spring, summer or fall… spend time with pets… clean out a dusty office… all of your seasonal symptom worries can be a thing of the past.
Bromelain
A natural enzyme extracted from pineapple stems, Bromelain offers a soothing, calming effect to the immune processes that trigger your symptoms.12
Just like your house and yard need regular cleanup, maintenance and junk removal, so does your immune system.
Studies have shown that bromelain helps to maintain a healthy inflammatory response, support normal mucus production in nasal passages, and supports optimal immune response.13, 14, 15, 16
In short, NasoChill gives your body everything it needs to help you breathe easy, stay comfortable and enjoy spring, summer, or fall… spend time with your furry friends… even clean up that dusty office or attic…
Using natural ingredients from Mother Earth instead of a lab…
n a unique and delicious drink mix shown to start working in as little as 15 minutes.
Perhaps best of all…
No pills, sprays, mists or needles…
NasoChill is a delicious, fast-dissolving natural drink mix for fast absorption and even faster benefits…
But, as you can imagine… 
NasoChill Has Quickly Become in High Demand…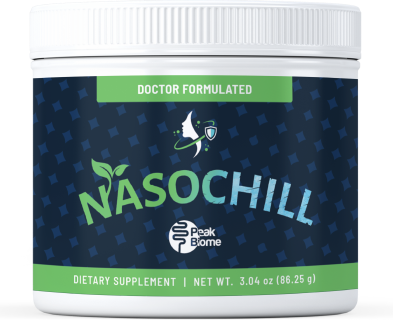 So Keeping Our Shelves Stocked Has Become a Challenge…
That's why we recommend taking advantage of the lowest price when you stock up on a 3 or 6 month supply.
That way you'll have the protection you need throughout pollen season or anytime you need added support. 
And of course…
Your Investment is 100% Protected By Our 180-Day, Unconditional Money-Back Guarantee!
I want to make sure there's NOTHING stopping you from giving NasoChill a try today.
You've probably tried a million things in the past that haven't worked for you...

But I'm asking you to commit to yourself now.

Maybe you're the kind of person who focuses on doing things for everyone else. 

Maybe you're the kind of person who wears your heart on your sleeve and puts everyone else first.

Well today I'm asking you to put YOU first. 

You deserve to breathe easy and feel your best. You deserve to enjoy outdoor activities without paining through your seasonal symptoms.

That's why I'm confident enough to offer you a 6-month, 100% money-back guarantee.

That means if NasoChill doesn't work for you you don't pay a single dime. It's that simple!
click here to choose your package